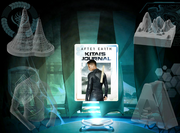 Uncover the untold story, as Kitai Raige (Jaden Smith) narrates his unbelievable journey across the most inhospitable planet in the universe: Earth.
With his dad Cypher (Will Smith) seriously—perhaps fatally—injured in their crashed ship, Kitai must overcome the odds, the elements, and his fears, if he hopes to ever see his distant home, Nova Prime, again.
-the full text of Kitai's Journal (by Christine Peymani), the official Junior Novelization of the feature film After Earth
-expanded content offers a glimpse into Kitai's quiet life on Nova Prime, and the wonder and terror of his adventure on Earth
-character backgrounds and features introduce you to the Raige family
-3D interactive models of the spaceships and creatures of the After Earth universe
-360-degree panoramic views of the landscapes of Nova Prime and Earth
Community content is available under
CC-BY-SA
unless otherwise noted.