Jurassic World: Dominion Dominates Fandom Wikis - The Loop
Play Sound
After Earth: Kitai's Journal

Vital statistics

Author
Christine Peymani
Illustrator
Jason A. Katzenstein
Published on
May 21, 2013
Published by
HarperCollins
The After Earth: Kitai's Journal is a book with black-and-white illustrations for younger readers.
Age Range: 8 and up
ISBN-13: 978-0062268570
ISBN-10: 0062268570
Publisher: HarperCollins
Publication date: May 21, 2013
Paperback: 144 pages
Product dimensions: 7.5 x 5.1 x 0.5 inches
Shipping Weight: 3.5 ounces
Publisher description
[
]
Based on the epic film After Earth, starring Jaden Smith and Will Smith.
One thousand years after cataclysmic events forced humanity's flight from Earth, Nova Prime has become mankind's new home. Legendary soldier Cypher Raige (Will Smith) returns to his estranged family, ready to be a father to his thirteen-year-old son Kitai (Jaden Smith). While traveling to a nearby planet, an asteroid storm damages Cypher and Kitai's ship, and they crash-land on an inhospitable Earth.
As his father lies dying in the cockpit, Kitai must trek across the hostile terrain in order to recover their rescue beacon, encountering highly evolved creatures and a ruthless alien beast along the way. His whole life, Kitai has wanted nothing more than to be a soldier like his father. Today, he gets his chance.
With black-and-white illustrations throughout, After Earth: Kitai's Journal is filled with action, adventure and emotion, as told by Kitai Raige himself—perfect for younger readers!
From the Back Cover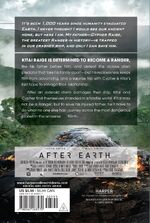 It's been 1,000 years since humanity evacuated Earth. I never thought I would see our ancient home, but here I am. My father—Cypher Raige, the greatest Ranger in history—is trapped in our crashed ship, and only I can save him.
Kitai Raige is determined to become a Ranger, like his father before him, and defeat the vicious alien predator that tore his family apart—but his recklessness keeps him from advancing, and a surprise trip with Cypher is Kitai's last hope to salvage their relationship.
After an asteroid storm damages their ship, Kitai and Cypher find themselves stranded in a hostile world. Kitai may not be a Ranger, but to save his injured father, he'll have to do what no one else has: journey across the most dangerous planet in the universe . . . Earth.
External Links
[
]